Press Release May 2023
Cork Dermatologists Sweep Top Prizes at Irish Research Meeting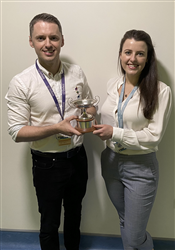 Dr Cathal O'Connor and Dr Lisa Kiely with Burrows Cup
The Dermatology Department in the South Infirmary Victoria University Hospital (SIVUH) Cork came away with the top prizes at the recent spring meeting of the all-island Irish Association of Dermatology. Dr Cathal O'Connor won the prestigious Burrows Cup for research from his PhD study – the 'assessing sleep in infants with atopic dermatitis' (SPINDLE) study. Dr O'Connor performed detailed research on sleep and neurophysiology in young babies with severe eczema. He said 'our novel findings will be used to increase awareness of the neurological complications of early-onset eczema and the impact on families of babies with eczema'. Dr Lisa Kiely was awarded the runner up prize for her research on a novel multispectral camera to improve the accuracy of remote patch testing in the region. Dr Kiely sought to find a solution to patients needing to come to SIVUH three times a week for examination for assessment of cutaneous allergy. She said 'this novel camera will optimise the investigation of patients with potential skin allergy, enhance patient and environmental impacts, and increase equity of care'. Dr O'Connor and Dr Kiely are both undertaking PhD degrees with University College Cork as part of the renowned Irish Clinical and Academic Training programme. The Dermatology Department in SIVUH is the only department on the island of Ireland to have two ICAT fellows.
Press Release
Minister Kathleen Lynch will open Mohs Unit at South Infirmary Victoria University Hospital, Cork
Date  Friday 17th April 2015  3PM
Venue   Conference Centre SIVUH
Expansion of skin cancer services at the South Infirmary Victoria University Hospital - Opening of Mohs Surgery Unit.
The South Infirmary Victoria University Hospital (SIVUH) is the major center for the provision of skin cancer services in the region.  The synergistic specialties of dermatology, plastic surgery, ENT, ophthalmology and maxillofacial surgery are located in the hospital.
SIVUH is delighted to announce the opening of a Mohs Surgery service. This is a highly specialised surgical method for removing skincancers in high risk facial areas and leads to higher cure rates than conventional surgery.  The Mohs Surgical service is lead by Consultant Dermatologist & Mohs Surgeon, Dr Catherine Gleeson in conjunction with Mr. Chris Cotter Consultant Maxillary Facial Surgeon & Mohs Surgeon.
At present the only other public Mohs service in the state is located in St James's Hospital.  The Mohs service at SIVUH adds to the comprehensive range of skin cancer services available at the hospital.
***************************************************************
Bantry General Hospital (BGH) and the Department of Dermatology at the South Infirmary Victoria University Hospital (SIVUH) are pleased to announce the official re-commencement of a phototherapy service at BGH. Phototherapy involves exposing the skin to ultraviolet light on a regular basis under medical supervision and is used in the treatment of psoriasis.
The phototherapy outreach service, which is expertly delivered by the physiotherapy department staff at BGH in conjunction with a consultant dermatologist visiting from the SIVUH, provides an effective and convenient treatment for patients with psoriasis. West Cork based patients attend for treatment for a very short period up to three times a week for a total of six to eight weeks to access this treatment. With the service re-opening at BGH, it means that these patients no longer have to travel to Cork numerous times a week for very short periods.
The hospital wishes to acknowledge the Friends of Bantry Hospital for providing the funding to purchase and install the phototherapy unit and for acting as committed advocates to the dermatology services in West Cork. - Dr Michelle Murphy – 2nd April 2015
***************************************************************
** Medical Dermatology for Non-Dermatologists 2015 ** (uploaded April 2015)
 The South Infirmary Victoria University Hospital & Dermcloud are pleased to launch an interactive web-based 4 week course on medical dermatology. (Click here to see details)
***************************************************************